With the increased pressure of urban life, urban white-collar work pressure also increased accordingly, long-term living in a high-stress fast-paced environment, they all need to release themselves in some way, so that the physical and mental pressure to be released. More and more companies are happy to organize outdoor sports for employees to help them de-stress and relax, and of course, many people are keen on outdoor sports to relaxing themselves.

The so-called outdoor sports, is out-of-home sports, including mountain climbing, rock climbing, hiking, cave exploration, rafting, skiing, horseback riding, bicycles, backpacking self-help travel, etc. Outdoor sports are emerging very quickly, many to "reduce stress, release" as the promotional concept of outdoor sports clubs also came into being, so that outdoor sports have gradually become a "social fashion" movement, and accordingly also led to the outdoor digital products market and outdoor mobile Portable power market.

Nowadays, for friends who love outdoor sports, each trip in addition to the necessary clothing and equipment, there are more and more digital products, such as cell phones, cameras, navigators, music players, tablet computers, etc. is not missing. These electronic products in the outdoors, their batteries are always not used for a long time without power, and can not be recharged, which is almost all love outdoor sports friends have encountered the problem.

Not only outdoor activities need outdoor power, such as outdoor work, emergency rescue, etc. These need portable power. Outdoor mobile power features are obvious.

At present, there are more than 200 domestic outdoor brands, relatively professional outdoor power supply products are still very few, professional outdoor mobile power is even less, although there are some not cold, plagued by quality problems did not spread, making the whole market is still almost a blank.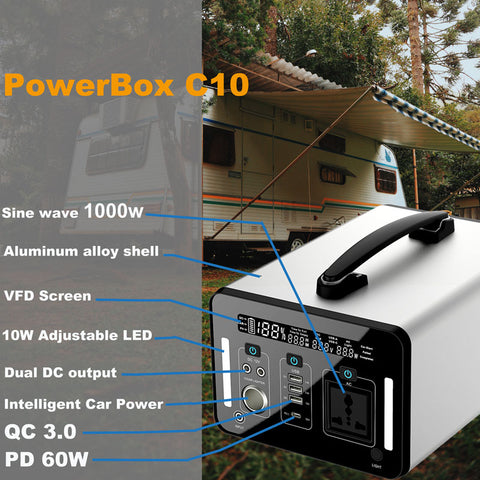 PowerBox portable power supply to open the outdoor mobile power market pattern, the launch of a very professional outdoor mobile portable power products, can be in an extremely harsh environment to the digital electronics power life, popular in the domestic and international markets, can be said to have caught the first opportunity. The market space.

1. safety quality first, power safety has become the first standard
Whether it is portable mobile power or new energy car power have been accidents, for outdoor power supply priority should be given to safety, in terms of electricity safety Cuneng Electric does not dare to slacken.

PowerBox outdoor power supplies are built with lithium iron phosphate cores, charging and discharging cycle life than ordinary power cores increased by 66%, 13 safety protection features, 9 quality testing procedures to avoid excessive charging and discharging, short circuit and other dangers, intelligent temperature control system, automatic adjustment of charging and discharging temperature to extend the life of the machine.

The PowerBox is not only equipped with an electric core, but also includes a control circuit board and heat dissipation system, which can control the working temperature of the power supply well, and comes with overload and short-circuit protection, which can automatically cut off the power once an accident occurs.

Secondly, the C Series outdoor portable power supply in the interface upgrade, support AC interface, USB interface, car charging port, and with an LCD screen, power and power display, at a glance when using. At the same time to increase the LED lighting function can also be used as a photo device in the outdoor night or home power outage.


2. Aluminum alloy material, can be solar charging
C series power supply with aluminum alloy shell design, lightweight and portable, easy to transport, convenient to move quickly from one site to another. With large capacity, it can supply power to digital devices many times and is very convenient to carry. Also, it can use outdoor solar panels to charge the power supply.

In the field, if the power supply lacks power, it can also be charged by solar panel, which is very convenient, but the solar charging panel needs to be purchased separately, and the price is not cheap.

PowerBox outdoor power supply is widely used in aerial photography, mapping and exploration, mobile medical care, self-driving travel, picnic camping, entertainment, and other fields because of its safety and portability, high efficiency, and environmental protection advantages.


3. Outdoor portable UPS power supply to ride the wave into the boom
In the field of outdoor operation, Impress power supply has been maturely applied in agriculture plant protection, border patrol, power grid maintenance, field mapping, fire rescue, outdoor operation of the army, and other fields.

Also in the field of emergency medical rescue to show their skills. In medical emergency places, outdoor power supply for medical equipment such as medical trolleys, respirators, electric blankets, and other power supply, to provide safe mobile power support for medical personnel, medical equipment; in stations, hospitals, airports, large shopping malls and other public places, outdoor power supply for disinfection machines, mobile temperature measurement door to provide convenient power support.

PowerBox C series can charge rice cookers, car refrigerators, barbecue grills, projectors, cell phones, laptops, and other entertainment and leisure equipment, solving the problem of outdoor emergency start vehicles, entertainment and recreation, living and working with electricity. The epidemic has given rise to national self-driving trips, outdoor camping and parent-child picnics are hot enough to make the PowerBox outdoor power supply lie in the trunk of car owners.

As the leading brand of outdoor power supply, Impress PowerBox outdoor mobile power not only hopes to provide users with a richer outdoor life experience through different types of the outdoor power supply but also hopes that this activity can call on more users to go out and enjoy outdoor travel without the worry of electricity.
If you are interested in joining us as an agent, you can leave us a message or send an email to: sale@impress-energy.com